Kensington Bluff Utility Retaining Walls, Clackamas, Oregon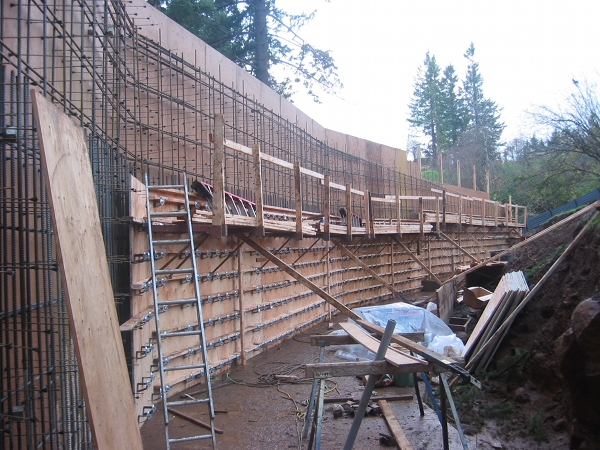 The Kensington Bluff development is located East of I-205 and North of Sunnyside Road in Clackamas, Oregon. Upon completion, the project will add hundreds of new homes to the area. In developments of this size, some type of water quality/detention device is required to help maintain natural water flow and limit water pollution in areas located below them during a storm event. The Kensington Bluff development elected to utilize a water quality pond to serve this purpose. Miller Consulting Engineers' involvement on this project was the analysis and design of a cantilever concrete retaining wall to support soils that make up the bank around the development's water quality pond. The pond is lined with a moisture barrier to prevent saturation of the adjacent soils, but the water still exerts lateral pressure. With the lateral soil pressure added into the mix, we used a total equivalent fluid pressure of 65 pounds per square foot, per foot of depth to analyze and design the retaining wall.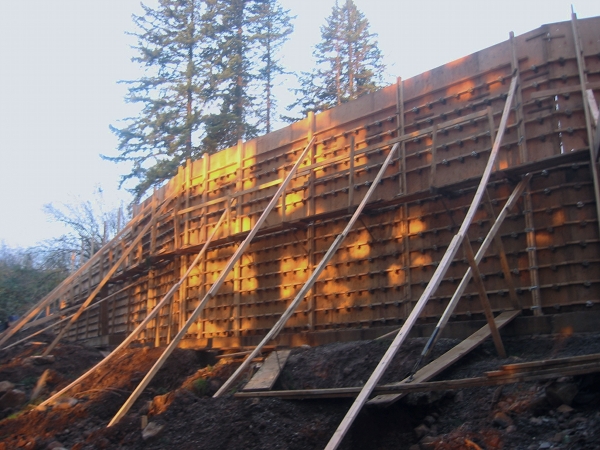 The wall varies in retained soil height from 6 feet to 14 feet and extends approximately 200 feet to encapsulate the downhill side of the pond. At its tallest point, the wall measures 14 inches thick with double mats of steel reinforcing and its footing is 13 feet wide.